Fine Jewelry for Discriminating Tastes
Dazzling Rings, Bracelets, Necklaces, Earrings in Gold & Silver
J Kamin Jewelers is pleased to offer a distinct collection of fine jewelry for discriminating tastes. We have something for everyone, from diamond stud earrings, Dancing Diamond pendants (watch video below), and colored gemstone jewelry to gold and silver necklaces and bracelets.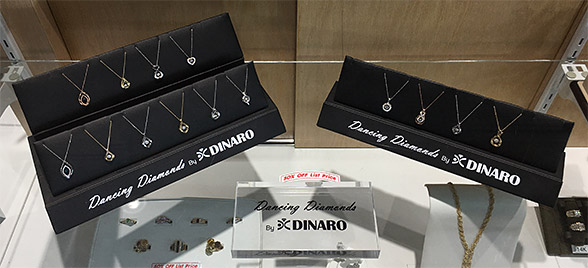 No need to shop online for your fine jewelry. Visit our store and try things on. See the diamonds sparkle and dance. See the soft glow of the gold or silver settings. Feel the cool smoothness of the fine finishes. Last, but not least, try the jewelry on and see it sparkle on you. And our personal service will help you find the special piece you're looking for.
We will provide you with choices and information so you can make an educated decision. We're not just interested in a one-time purchase. We hope to make you a buyer, and a friend, for life.
Visit us today and see why our motto is "Quality Within Your Reach."