Citizen Watches for Men and Women
The Largest Collection of Citizen Watches in the Rockford Area
Watches are an expression of your personal style. Whether you're looking for an everyday watch, a fashion statement or a quality timepiece that you can hand down to future generations, we can help.
We offer the largest collection of Citizen watches in the Rockford area. Citizen Eco-Drive watches feature solar-powered technology and are backed by a 5-Year Warranty. Your Citizen Eco-Drive will never need winding. You'll never have to pay for a battery again. In 2015 we became the only dealer in the area to carry the top-of-the-line Signature Collection of Citizen watches. Signature watches for men and women offer innovative designs and advanced features.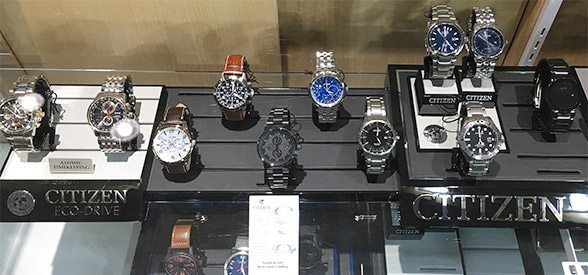 Need watch repair or battery replaced?
Most watch batteries can be replaced while you wait. Other minor services, such as adjusting watchbands, can also be done while you wait.
Watches needing additional service are hand delivered to our watchmakers for estimates. Estimates are always free and you're under no obligation to have the work performed. And your watch is always insured while in our hands.
Our watchmakers have more than 60 years of combined experience. They can clean, service or repair most brands of watches and timepieces, whether quartz or windup.
Visit J Kamin today for the perfect gift… the Gift of Time by Citizen Watches.